These are the top 10 things our very own Stephanie says you NEED on your wedding registry!
As wedding photographers, we are undoubtedly about more than pushing buttons on a camera – we want to make your lives easier! From helping plan a timeline for your big day, to bustling your dress, we are here for you!
And, we know from experience that wedding planning can be a long and challenging process — even before you throw 2020 into the mix!
So, if you're newly engaged and not sure where the registry even starts, here are a few things you definitely need!
1. Cordless Vacuum
It seems so extra, especially if you already have a regular vacuum – we really hesitated on adding such an expensive gift that wasn't a necessity. It didn't get purchased for us, but we saved those gift cards and splurged once it went on sale! I promise this is wonderful for those everyday messes and helps keep your house tidy and your socks crumb free!
2. High Quality Knives
Wusthof Gourmet 6″ Cook's Knife
Pick and choose! We picked individual pieces rather than a boxed set so we only got the ones we needed. When picking, consider size, what you cook, etc. (And, bonus, the lower price point on your wedding registry means you'll be more likely to get at least a few!) Wusthof Gourmet line is a great place to start – higher quality than we've ever had, but at a price point that doesn't break the bank.
Bonus Item – We also love this drawer storage so the counters look tidy!
Knifedock – In-drawer Kitchen Knife Storage
3. A Big Shallow Stock Pot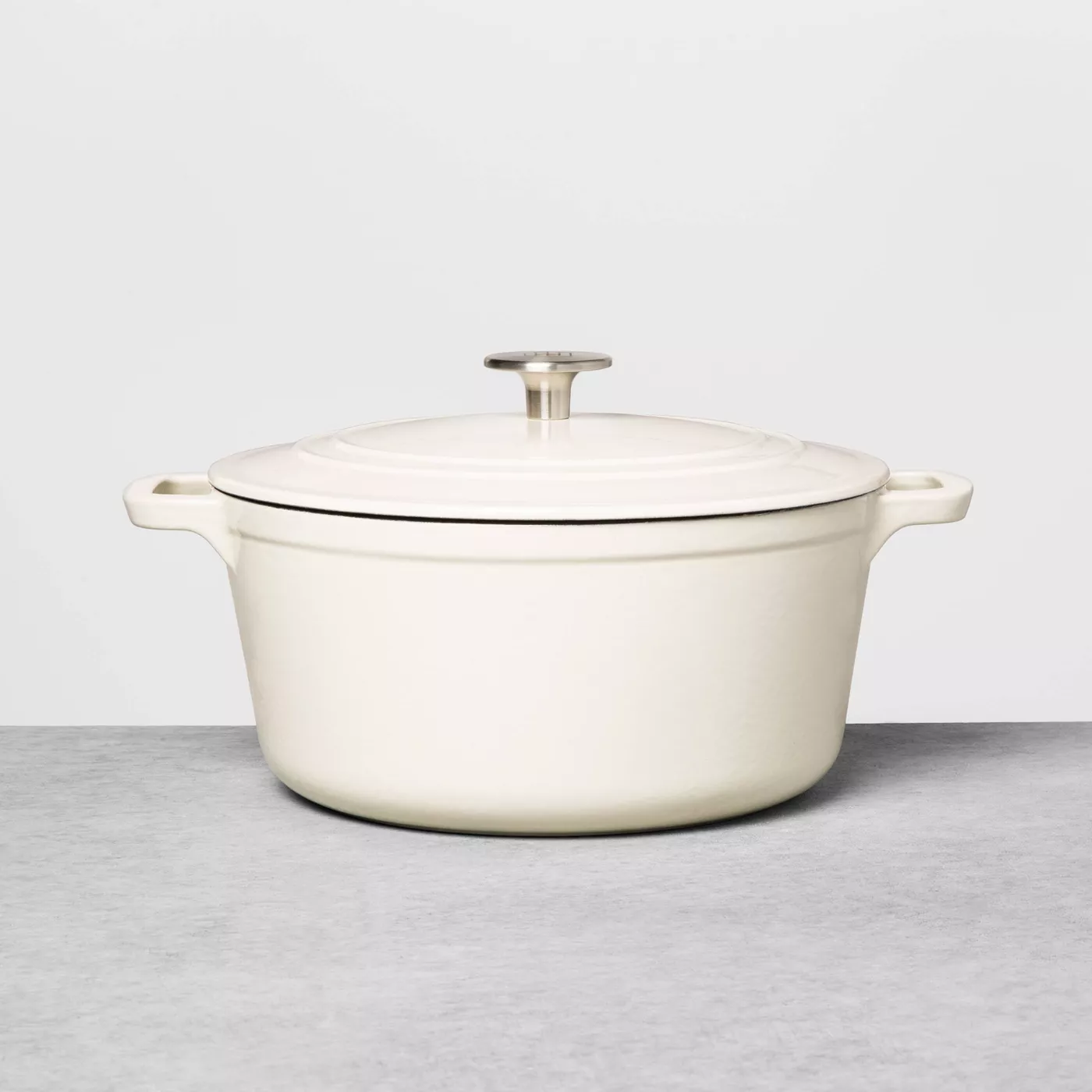 Target – Enameled Cast Iron Dutch Oven – Hearth & Hand with Magnolia
This was a last minute add for us, but it is a wonderful addition to our collection and honestly the one we use the most – perfect for soup, chili, and pastas! I honestly thought it was something we wouldn't need, being just 2 of us for now, but we use it all the time.
Bonus Item – and to clean it: Bar Keeper's Friend is a MUST HAVE. IYKYK.
4. Magnetic Notepads
Jot & Mark Floral Shopping List Pads
Daily Planner by Sweetzer & Orange
Perfect for grocery lists, menu planning and such. Magnetic means they're so close that it's easy to add replacements on the spot.
5. Cookbooks
The Complete Cooking for Two Cookbook
The Bon Appetit Cookbook: Fast Easy Fresh
Lord have mercy on me and my lack of cooking abilities. Six months in, we've tried a few awesome ones (my husband) and a few flops (me — whoops!) For easy, quick, healthy and tasty ideas these are two of our favorite sources. Add these, your wedding registry and spouse will thank me!
6. SO MUCH Tupperware!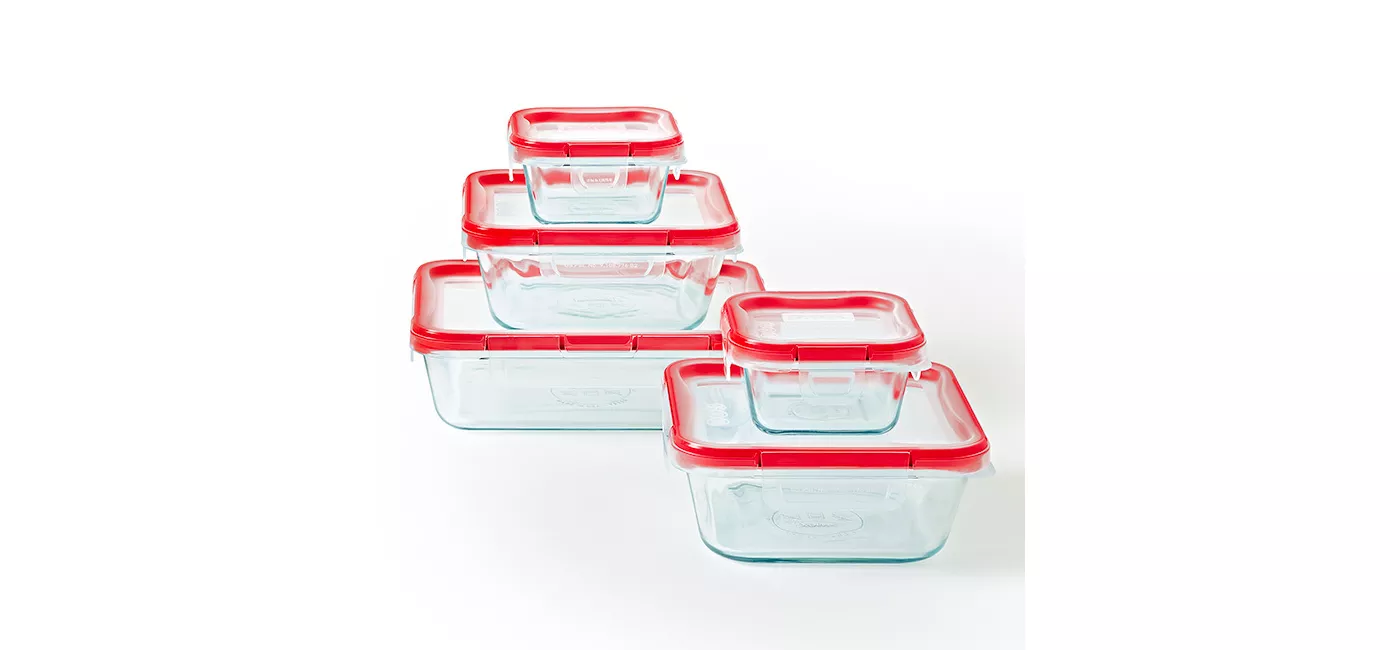 Target – Pyrex 10pc FreshLock Glass Storage Set
It gets used quicker than you think! There's always a few in the fridge, a few in the dishwasher, and never the one you need in the cabinet…. We are trying to be eco friendly and low toxin so we chose these glass ones, and love them! The snap lids mean they never leak, and the glass is surprisingly durable. We've even dropped a few and they didn't break.
7. Pillows and Bedding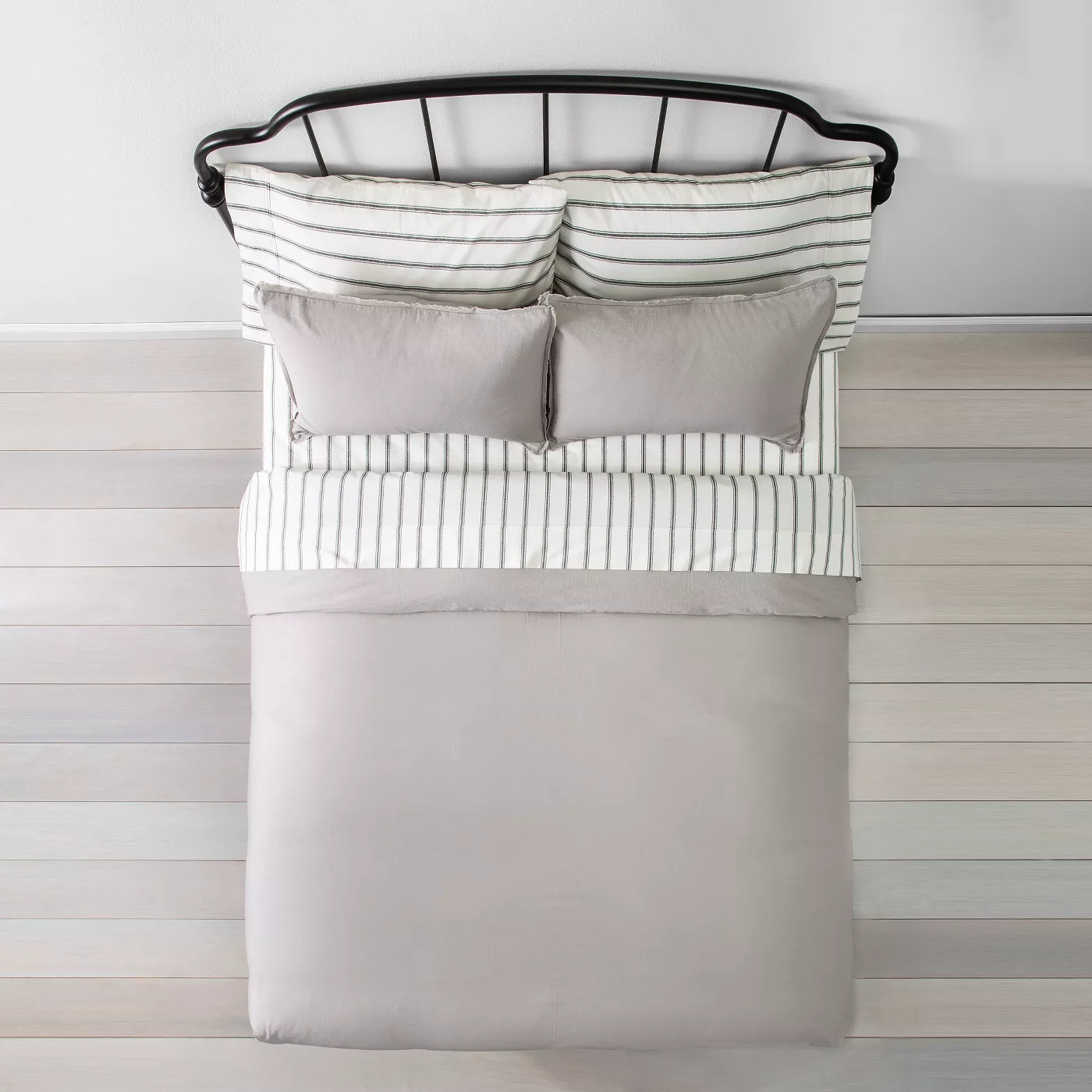 Target – Solid Linen Blend Duvet & Sham Set – Hearth & Hand with Magnolia
Bed Bath & Beyond – Wamsutta Dream Zone 500-Threadcount PimaCott Sheet Set
You spend like half your life in bed, so may as well make it comfy! My husband came from sleeping on a mattress on the floor to a bougie bed and whoa! Level up! Don't be afraid to splurge on that mattress topper or some super bougie sheets. We love linen and percale for those hot summers.
8. Stepstool
Cosco 3-Step Lightweight Folding Stool
You don't realize how handy it is to have one until you do – we use ours all the time! From gardening, to changing a lightbulb and organizing the closet, this is a no brainer. And this one seems to be the perfect height – just tall enough, but not heavy at all!
9. Something cute for the season
Cotton Craft Positano Cabana Towels
Urban Villa Christmas Place Mats
We got married around Christmas, so we threw in a few Christmas decorations and seasonal items, why not?? Same goes for each season: for spring, try placemats or pillow covers, for summer — beach towels, or for fall — cozy blankets!
10. Luggage
Samsonite Leverage 3-Piece Luggage Set
Not super helpful during this COVID season, but we are looking forward to getting some good use out of these! These were expensive, but don't be afraid to put them (or other big ones) on the registry – sometimes generous aunts and uncles splurge, or you can put those extra gift cards and registry discounts to good use at the end!
And not really a registry item, but we received several cash gifts with notes to buy a wedding album, prints or canvases…. I'm biased but YES YES YES! Print all the photos. In an increasingly digital world, it is so nice to have a tangible memory from the day you spent so long planning!
Here at MHP we offer TONS of options when it comes to getting your photos printed; albums, books, canvases, framed prints, prints on fine art papers, proof prints, greeting cards and pretty much anything you could think of! Let us help you curate your own gallery of artwork to display your favorite images in your home. Treat yourself! You deserve it!
Happy Wedding Planning! XO Stephanie
10 Wedding Registry Must Haves